Islamabad Police Jobs have been announced for the posts of Special Police Officers for up to 200 seats.
Official advertisement, eligibility criteria, the online application process, and the last date to apply for Islamabad Police Jobs 2023 have been given below.
Please visit us to check out the Shaheed Benazir Bhutto Girls Cadet College Larkana Jobs that have been previously posted on our website.
Recommended Reading: IBA University Sukkur Jobs 2023 Online Apply
Designation
Special Police Officers
Age Limit
30-40
Who Can Apply
Male
Salary Offered
Pkr. 40,000
Job Location
Islamabad
Category
Government Jobs
Date Posted
07 May 2023
Job Type
Permanent
Last Date To Apply
21 June 2023
Islamabad Police Jobs 2023 Online Apply
Qualification Required for Islamabad Police Jobs 2023
The minimum qualification for these Jobs is a Matric degree from a Government or private certified institution.
Experience Required For Islamabad Police Jobs
Interested candidates must have at least 2 years of experience in the relevant field from a renowned institution.
Experienced candidates would be preferred over fresh ones. Although fresh candidates can also apply for these jobs.
Recommended Reading: QUEST University Nawabshah Jobs 2023 Online Apply
Islamabad Police Jobs Online Application Process
The official online application process for these jobs is given in the following image. Read it carefully before applying for these jobs.
Islamabad Police Jobs Official Advertisement
The following is the official advertisement for these jobs. You can also visit the Islamabad Police Jobs Official website to see details of these jobs by clicking here.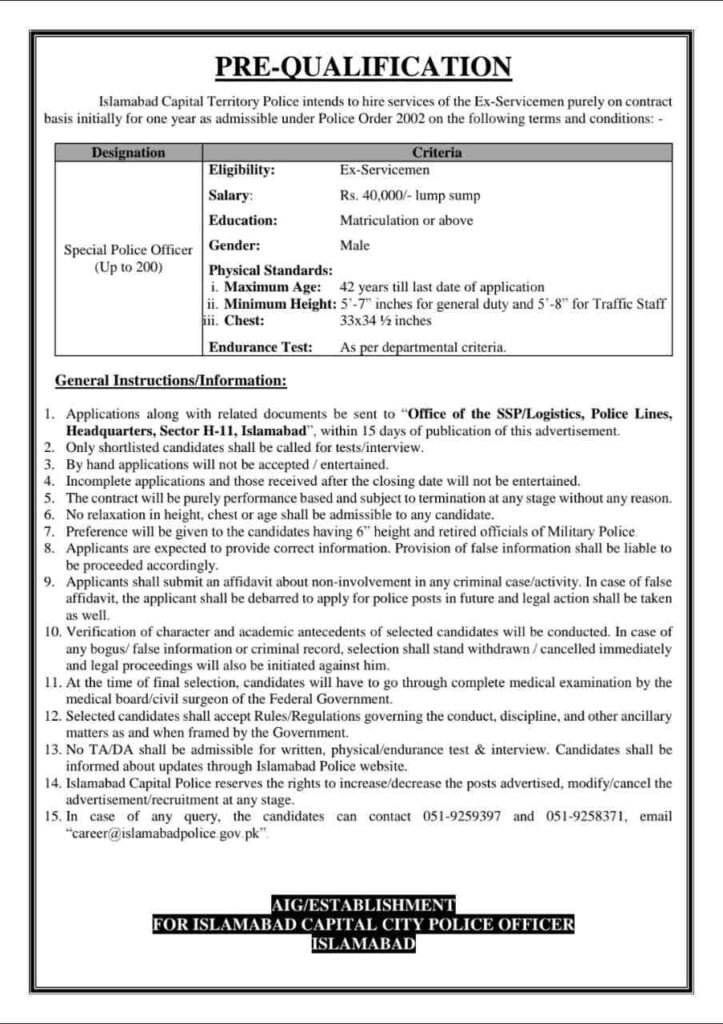 Islamabad Police Helpline Number
Official Website: https://islamabadpolice.gov.pk/
Email:careers@islamabadpolice.gov.pk
Phone: 051-9259397
Recommended Reading: PPHI Sindh Jobs 2023 Online Apply
Islamabad Police Jobs FAQs
What is the last date to apply for Islamabad Police Jobs 2023?

The last date to apply for Islamabad Police Jobs 2023 is 21 June 2023.
Qualifications Required for Islamabad Police Jobs?

The required Qualification for these jobs is a Matric Degree from an HEC-recognized institution.
What is Islamabad Police Official Website?

Islamabad Police Contact Number is as follows
Website:https://islamabadpolice.gov.pk/

Phone:051-9259397
Email:careers@islamabadpolice.gov.pk

Address: Police Lines Headquarters Sector H11 Islamabad.
Recommended Reading: NFC Institute Of Engineering And Fertilizer Research Faisalabad Jobs 2023
How To Get Police Jobs In Pakistan After Graduation
To get police jobs in Pakistan after graduation, here are five tips to help you expedite the process:
Stay Updated with Recruitment Notifications: Regularly check the official websites of the relevant police departments, as well as reputable job portals and newspapers, to stay informed about the latest job vacancies. Stay updated with the application deadlines, eligibility criteria, and required documents.
Fulfill the Eligibility Criteria: Ensure that you meet all the eligibility requirements specified by the police department. This may include age limits, educational qualifications, physical fitness standards, and any other specific criteria. Read the job advertisements carefully and make sure you meet the minimum requirements before applying.
Prepare for the Written Exam: Many police departments conduct written examinations as part of the selection process. Familiarize yourself with the syllabus and exam pattern for the written test. Dedicate ample time to study and revise relevant subjects such as general knowledge, English language, mathematics, and current affairs. Solve previous years' question papers and consider joining coaching classes or online courses to enhance your preparation.
Physical Fitness and Medical Tests: Physical fitness is an essential aspect of police jobs. Engage in regular exercise and maintain a healthy lifestyle to ensure you meet the physical fitness standards required for the job. Additionally, some police departments may conduct medical tests to assess your overall health and fitness. Take care of your health and be prepared for such tests.
Enhance Your Skills and Knowledge: Along with meeting the basic requirements, it's beneficial to develop additional skills and knowledge that are relevant to police work. This can include learning about criminal law, self-defense techniques, traffic rules, and conflict resolution strategies. Participate in workshops, seminars, and training programs related to law enforcement to enhance your skill set and demonstrate your dedication to the field.
Remember, the recruitment process for police jobs can be competitive, so it's important to be well-prepared, focused, and persistent in your efforts. Good luck!
Recommended Readings:
If you like this article, please comment and share this job on Facebook, Whatsapp, or any social media platform.
If you have any queries regarding this particular job or any other job feel free to ask us at Contact@jobbuzz.pk. We would love to answer all of your queries. Thanks for reading our article.