Bike Rider Jobs In Dubai Official advertisement, minimum qualification/ experience required, the Application process, and the last date to apply have been mentioned below.
Do visit us to check out the that have previously been posted on our website.
Recommended Readings: Secretary Jobs In Islamabad 2023 | Female Secretary Jobs In Islamabad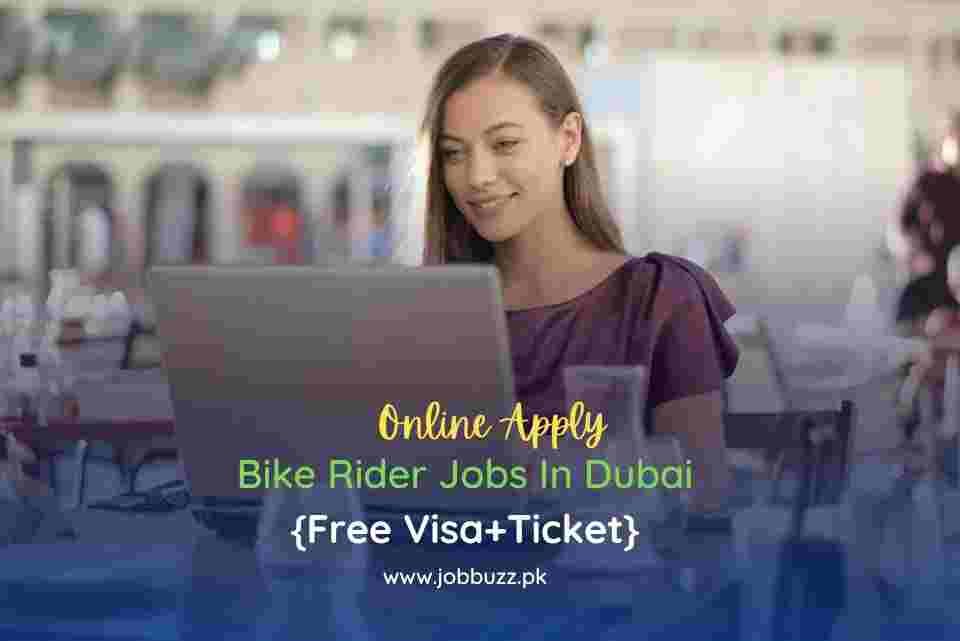 Bike Rider Jobs In Dubai For Pizza Delivery 2023 Online Apply
Date Posted
These jobs were announced on 31 -12-2023.
Newspaper/ Official Website

Jobs were announced in the Daily Express from Islamabad.
Qualifications Required For Bike Rider Jobs In Dubai

The minimum qualification for the Job is a matric degree from a Government or private certified institution.
Experience Required For Bike Rider Jobs In Dubai

Interested candidates must have at least 2 years of experience as a Delivery man from a renowned institution. Experienced candidates would be preferred over fresh ones. However, freshers can also apply for this job.
Recommended Readings: National Power Parks Management Company Jobs
Vacancies Location

All interested candidates both Islamabad candidates from all over Pakistan can apply for this job.
Category / Sector

Private-sector job
Organization
Jan Muhammad's son's
Expected Salary/ Allowance of Bike Rider Jobs In Dubai

The expected salary/ allowance is 1500 dram +Allowance
Application Process For Bike Rider Jobs In Dubai

All interested candidates can apply for this job
or by contacting at their Office Contact: 03058100030
Candidates can visit their Office Address: Take Test Center 91_C Rawalpindi
Recommended Readings: Ali Garh Public School Jobs (Vice Principal)
Last Date to Apply for Bike Rider Jobs In Dubai
Candidates can get this wonderful job opportunity on a first come first get basis.
Bike Rider Jobs In Dubai FAQs
What is the Salary of Bike Rider Jobs In Dubai?
The Salary of Bike Rider Jobs In Dubai 1500 dram +Allowance.
What is the last date to apply for Bike Rider Jobs In Dubai?
The last date to apply for Bike Rider Jobs In Dubai is December 2023.
Bike Rider Jobs In Dubai
Dubai's transformation from a humble fishing village to a thriving global metropolis is a remarkable story of vision, ambition, and strategic planning.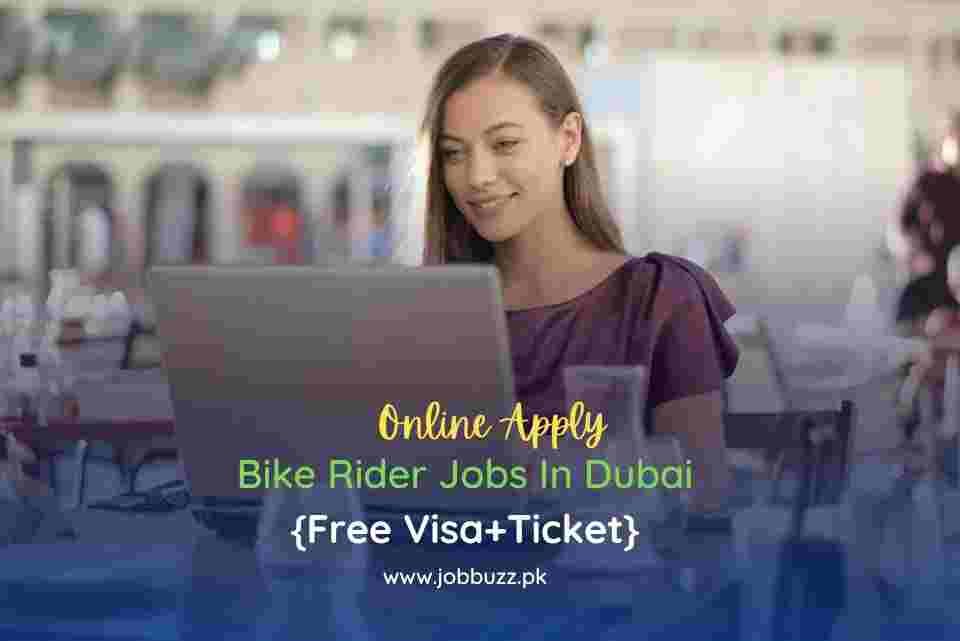 Let's discuss the key aspects of Dubai's growth and its significance in greater detail:
Early History and Growth: Dubai's history dates back to the 18th century when it was a small fishing and trading settlement along the coast of the Persian Gulf. The city's advantageous location made it an essential maritime trading post for merchants from across the Arabian Peninsula, India, and East Africa. Trade was the primary economic activity, and pearl diving also contributed to the local economy.
Economic Diversification: In the early 20th century, Dubai further established itself as a regional trading hub, facilitating the exchange of goods and commodities. However, recognizing the volatility of relying solely on trading activities and the limited natural resources, Dubai's leaders began diversifying the economy. This diversification became more apparent as the oil era began in the Middle East.
Oil Discovery and Impact: While oil was discovered in the region in the 1960s, Dubai's oil reserves were relatively modest compared to other emirates in the UAE. The leadership of Dubai chose to invest oil revenues into infrastructure development and economic diversification, rather than solely relying on oil as a primary source of income. This foresight proved crucial in shaping Dubai's economic landscape for the future.
Tourism and Real Estate Boom: In the 1990s and early 2000s, Dubai experienced a massive boom in tourism and real estate development. The city's government invested heavily in building impressive infrastructure, iconic landmarks like the Burj Khalifa, luxurious hotels, and world-class shopping malls. These developments attracted tourists and investors from around the globe, establishing Dubai as a popular destination for leisure, business, and investment.
Business and Investment-Friendly Environment: Dubai adopted a pro-business approach with favorable tax regulations, business-friendly policies, and free trade zones, making it an attractive destination for foreign investment. This environment attracted multinational corporations, financial institutions, and entrepreneurs to establish their regional headquarters or branches in the city.
Aviation and Connectivity: Dubai's strategic location and the success of Emirates, its flagship carrier, turned the city into a major global transport hub. Dubai International Airport became one of the busiest airports in the world, connecting travelers from various continents. Additionally, Dubai invested heavily in its airline industry and the construction of modern airport facilities, further boosting the city's global connectivity.
Diversified Economy: Dubai's leaders focused on reducing the dependence on oil revenues by diversifying the economy into various sectors. Trade, tourism, aviation, real estate, and financial services became the main pillars of Dubai's economy. The government actively encouraged innovation and entrepreneurship, leading to the emergence of a vibrant startup ecosystem.
Cultural Melting Pot: Dubai's population is incredibly diverse, with a large expatriate community comprising people from various countries and cultures. This multicultural environment has fostered tolerance, openness, and a cosmopolitan lifestyle, making Dubai a melting pot of cultures and traditions.
Sustainable Development: As Dubai grew rapidly, it also faced challenges related to sustainability and environmental impact. The city responded by adopting sustainability measures, investing in renewable energy, and implementing eco-friendly initiatives to mitigate its ecological footprint.
In conclusion, Dubai's rise from a small fishing village to a global metropolis is a testament to its visionary leadership and strategic planning.
Recommended Readings:
If you like this article, please comment and share this job on Facebook, Whatsapp, or any social media platform.
If you have any queries regarding this particular job or any other job feel free to ask us at Contact@jobbuzz.pk. We would love to answer all of your queries. Thanks for reading our article.