UCP Jobs 2023 have been announced for the post of Professor, Assistant Professor, Associate Professor, Principal Lecturer, Associate Lecturer, and Assistant Lecturer.
Official advertisement, eligibility criteria, the online application process, and the last date to apply for UCP Jobs 2023 have been given below.
Please visit us to check out the Akhuwat Foundation Jobs 2023  that have been previously posted on our website.
Recommended Reading: Non-Teaching Jobs In Akhuwat Foundation
Designation
Professor
Age Limit
30-50
Who Can Apply
Male, Female
Salary Offered
Pkr. 250,000
Job Location
Lahore
Category
Government Jobs
Date Posted
19 June 2023
Job Type
Permanent
Last Date To Apply
5 July 2023
UCP Jobs 2023 2023 Online Apply
Qualification Required for UCP Jobs 2023
The minimum qualification for these Jobs is a PhD/MS M.Phil degree from a Government or private certified institution.
Experience Required For UCP Jobs 2023
Interested candidates must have at least 10 years of experience in the relevant field from a renowned institution.
Recommended Reading: Teaching Jobs In Akhuwat
UCP Jobs 2023 Online Application Process
The official online application process for these jobs is given in the following image. Read it carefully before applying for the UCP Jobs 2023.
University Of Central Punjab Jobs 2023 Official Advertisement
The following is the official advertisement for the UCP Jobs 2023. You can also visit the UCP Official website to see details of these jobs by clicking here.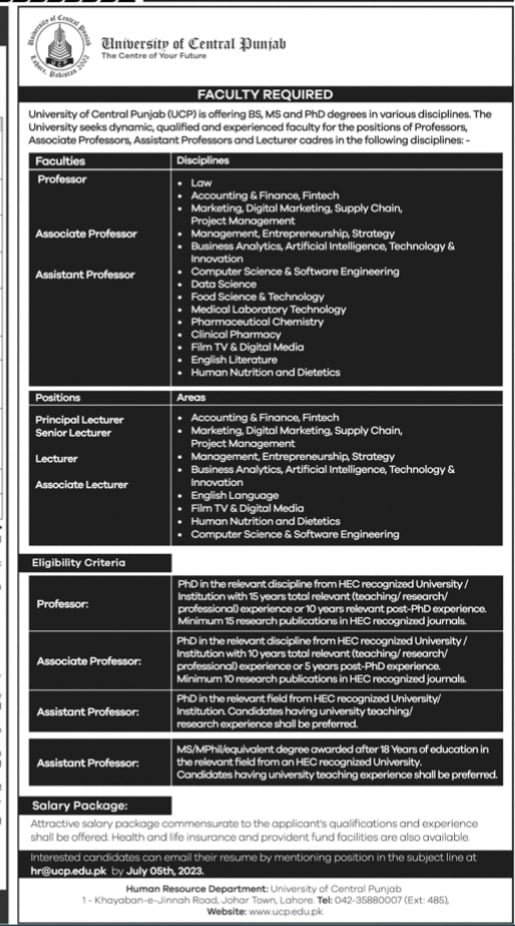 UCP Helpline Number
Official Website:www.ucp.edu.pk
Email: hr@ucp.edu.pk
Phone:042-35880007
Recommended Reading: The Bank Of Punjab Jobs 2023
UCP Jobs FAQs
What is the last date to apply for UCP Jobs 2023?

The last date to apply for UCP Jobs 2023 is 05 July 2023.
Qualifications Required for UCP Jobs 2023?

The required Qualification for these jobs is a Ph.D., M.Phil, or MS Degree from an HEC-recognized institution.
What is UCP Contact Number?

UCP 's Contact Number is as follows
Website:www.ucp.edu.pk

Phone:042-35880007
Email:hr@ucp.edu.pk

Address: University of Central Punjab Johar Town Lahore.
Recommended Reading: Akhuwat Foundation Jobs 2023 Latest Advertisement
How To Prepare For UCP Jobs In Pakistan (Tips+Tricks)
Preparing for UCP (University of Central Punjab) jobs in Pakistan, specifically for positions like Professor, Assistant Professor, Associate Professor, and Principal Lecturer, requires a combination of academic qualifications, research experience, and effective preparation strategies.
Here are some tips and tricks to help you prepare:
Review the job requirements: Carefully read the job advertisements and descriptions for the positions you are interested in. Understand the specific qualifications, experience, and skills they are looking for.
Enhance your qualifications: Ensure that you meet the minimum educational requirements for the desired position. If necessary, consider pursuing higher degrees or certifications to strengthen your academic profile.
Focus on research: University positions typically require a strong research background. Emphasize your research experience, publications, conference presentations, and any grants or projects you have been involved in. Highlight your contribution to the field and any awards or recognition you have received.
Develop your teaching skills: Teaching experience is highly valued in academia. If you have limited experience, consider taking up teaching opportunities, such as part-time lecturing or conducting workshops. Discuss your teaching philosophy, methodologies, and any innovative approaches you have implemented.
Update your CV: Tailor your curriculum vitae (CV) to highlight relevant experience, research publications, teaching experience, and academic achievements. Emphasize your contributions and their impact in your respective field.
Prepare a comprehensive portfolio: Create a portfolio showcasing your research papers, published articles, conference presentations, teaching materials, and any other relevant documents that demonstrate your expertise. This will help you stand out during the selection process.
Stay updated on current affairs: Being well-informed about the latest developments and trends in your field is crucial. Read scholarly articles, attend conferences, participate in webinars, and engage in discussions with colleagues to stay up to date.
Practice effective communication: Strong communication skills are essential for academic positions. Prepare for interviews and presentations by practicing your speaking abilities. Clearly articulate your research findings and teaching methodologies, and be prepared to discuss potential research plans or teaching strategies.
Network with professionals: Connect with professionals in your field, both within and outside UCP. Attend conferences, workshops, and seminars to meet experts and potential collaborators. Networking can provide valuable insights, opportunities, and recommendations.
Seek feedback and guidance: Engage with mentors, colleagues, and professors who can provide constructive feedback on your research, teaching, and application materials. Their insights can help you improve your overall profile and increase your chances of success.
If you like this article, please comment and share this job on Facebook, Whatsapp, or any social media platform.
If you have any queries regarding this particular job or any other job feel free to ask us at Contact@jobbuzz.pk. We would love to answer all of your queries. Thanks for reading our article.
Recommended Readings: