The University Of Peshawar Admission has been announced for the six months diploma in Persian Translation programs.
The online application process, eligibility criteria, and the last date to apply for admissions have been given below.
Do visit us to check out the UMT Lahore Admission that has previously been posted on our website.
Program Name
DAE
Admissions Starting Date
15 November 2022
Campus Location
Peshawar, KPK
Last Date To Apply
12 November 2022
Admission Details
University Of Peshawar Admission Online Apply
All registrations would be online at the official website of the University Of Peshawar official website. To visit the official website click here.
This is the official advertisement for Admissions, all the relevant details are given in the following image.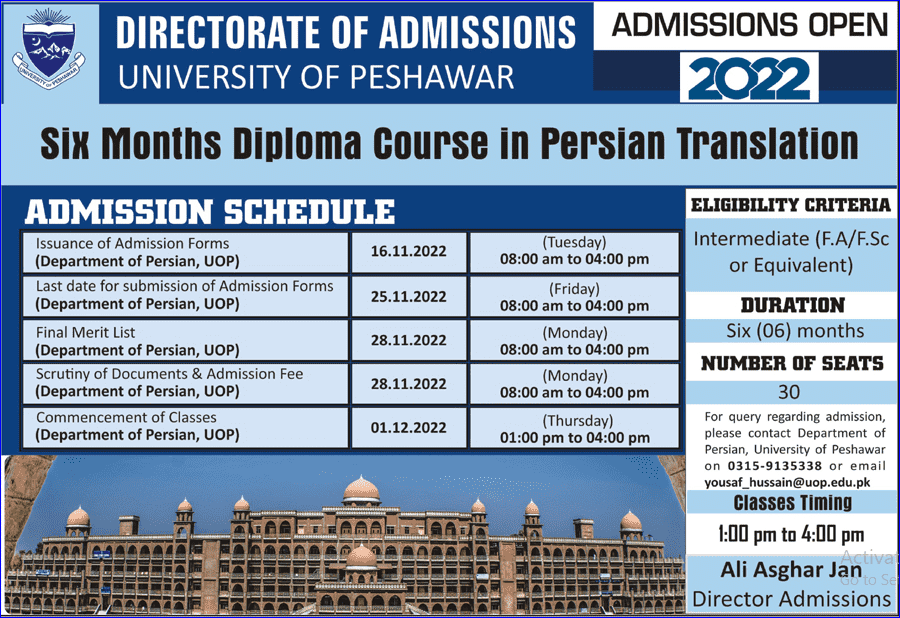 Necessary Instruction to Apply Online
While applying candidates must enter their mobile number (not convertible) and email address.
Further communication/contact between the university and candidates would be at the mobile number and email address provided at the time of the online application.
An incomplete application, one received after the closing date shall not be accepted.
If you like this article, please comment and share this job update on Facebook, Whatsapp, or any social media platform.
If you have any queries regarding this particular job or any other job feel free to ask us. We would love to answer all of your queries. Thanks for reading our article.
FAQs
University Of Peshawar Contact Number?
The contact number of the University Of Peshawar is +92-91-9216701.
University Of Peshawar Fee Structure?
The University Of Peshawar Fee Structure could be checked at the following link
http://www.uop.edu.pk/admissions/?q=Overview.
If you like this post, visit our website or click the links below to see the latest job advertisements.