Pak Navy Jobs 2023 Online Apply have been announced for the posts of Cadet For Permanent Commission in term 2023-B.
Official advertisement, eligibility criteria, the online application process, and the last date to apply for Pak Navy Jobs 2023 have been given below.
Please visit us to check out the that have been previously posted on our website.
Ministry Of Science And Technology Jobs 2023 Apply Online
Designation
Cadet
Age Limit
18-23
Who Can Apply
Male, Female
Salary Offered
Pkr. 50,000
Job Location
All over Pakistan
Category
Government Jobs
Date Posted
21 May 2023
Job Type
Permanent
Last Date To Apply
04 June 2023
Pak Navy Jobs 2023 Online Apply
Qualification Required for Pak Navy Jobs 2023
The minimum qualification for these Jobs is a Matric and FSC or O/A Level degree from a Government or private certified institution.
Experience Required For Pak Navy Jobs 2023
Interested candidates must have at least 2 years of experience in the relevant field from a renowned institution.
Experienced candidates would be preferred over fresh ones. Although fresh candidates can also apply for the Pak Navy Jobs 2023.
Recommended Reading:LESCO Jobs 2023 | LESCO Jobs Advertisement 2023
Pak Navy Jobs 2023 Online Application Process
The official online application process for these jobs is given in the following image. Read it carefully before applying for these jobs.
Pak Navy Jobs 2023 Official Advertisement
The following is the official advertisement for these jobs. You can also visit the Pak Navy Official website to see details of these jobs by clicking here.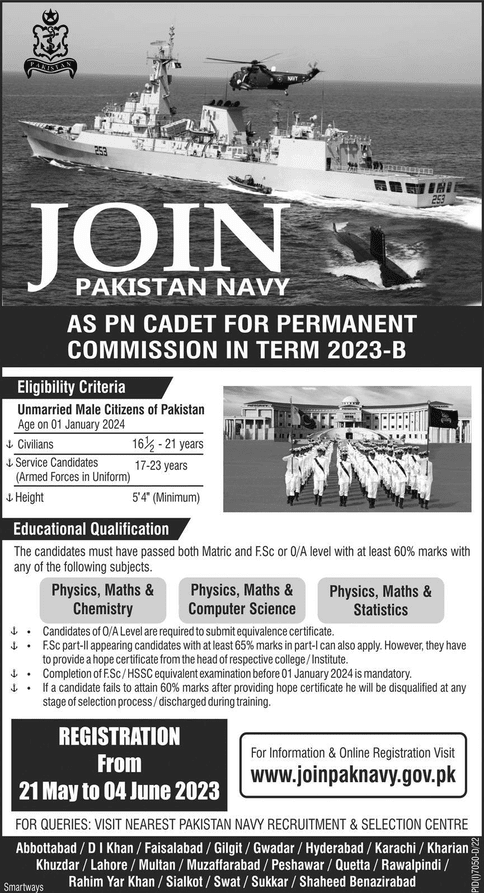 Pak Navy Helpline Number
Official Website: www.joinpaknavy.gov.pk
Pak Navy Jobs 2023 FAQs
What is the last date to apply for Pak Navy Jobs 2023?

The last date to apply Pak Navy Jobs 2023 is 04 June 2023.
Qualifications Required for Pak Navy Jobs 2023?

The required Qualification for these jobs is a Matric with FSC Degree from an HEC-recognized institution.
What is the Basic Pay Scale of Pak Navy Jobs 2023?

The basic pay scale of Pak Navy Jobs 2023 Is BS-16
What is Pak Navy Contact Number?

pak Navy Contact Number is as follows
Website:www.joinpaknavy.gov.pk

Address: Nearest Pakistan Navy Recruitment and Selection Center.
Recommended Reading: Benazir Income Support Project Jobs 2023 | BISP Jobs 2023
How To Prepare For Pak Navy Jobs 2023 In Pakistan (Tips+Tricks)
Preparing for Pak Navy jobs in Pakistan requires dedication, focus, and a systematic approach. Here are some tips and tricks to help you in your preparation:
Understand the Requirements: Start by thoroughly understanding the eligibility criteria and requirements for the Pak Navy jobs you are interested in. Visit the official website of the Pakistan Navy or refer to the official recruitment advertisements to gather all the necessary information.
Physical Fitness: Physical fitness is crucial for joining the Pak Navy. Engage in regular physical exercise and develop a fitness routine that includes cardio, strength training, and flexibility exercises. Practice running, swimming, and other physical activities to improve your endurance and stamina. Additionally, maintain a healthy diet to support your fitness goals.
Academic Preparation: Depending on the specific job you are applying for, you may need to clear written exams. Focus on the subjects that are commonly tested, such as English, Mathematics, Physics, and General Knowledge. Review your school textbooks and study guides related to these subjects. Solve previous years' question papers and take online mock tests to familiarize yourself with the exam pattern and time management.
General Knowledge: Develop a habit of reading newspapers, magazines, and online news portals to stay updated with current affairs. Focus on national and international news, defense-related developments, and maritime affairs. Maintain a notebook to jot down important facts and information that you come across during your research.
English Language Proficiency: The Pak Navy values strong communication skills. Enhance your English language proficiency by reading English newspapers, books, and magazines. Practice writing essays, letters, and applications to improve your written expression. Additionally, work on your verbal skills by engaging in conversations with friends or joining an English-speaking club.
Technical Knowledge: Some job roles in the Pak Navy require technical expertise. If you are applying for such positions, study the relevant technical subjects in depth. Refer to textbooks, online resources, and video tutorials to understand the concepts. Seek guidance from subject matter experts or teachers if needed.
Time Management: Create a study schedule that allocates sufficient time for each subject and topic. Set realistic goals and adhere to the schedule. Avoid procrastination and maintain discipline throughout your preparation. Break down complex topics into smaller, manageable parts and allocate dedicated study time for each.
Join Coaching Institutes or Online Courses: If you feel the need for structured guidance, consider joining coaching institutes that specialize in defense exam preparation. Alternatively, there are numerous online platforms that offer courses, study materials, and mock tests specifically designed for Pak Navy job aspirants. These resources can provide valuable insights, study materials, and practice tests to enhance your preparation.
Physical Training: Familiarize yourself with the physical standards and requirements of the Pak Navy. Develop a training regimen that focuses on improving strength, endurance, and agility. Practice running, swimming, push-ups, sit-ups, and other exercises regularly. Seek guidance from fitness trainers or join fitness centers that offer specific training programs for defense job aspirants.
Mock Interviews: As part of the selection process, candidates are often required to face interviews. Prepare for interviews by practicing common interview questions, researching the Pakistan Navy, and developing articulate responses. Conduct mock interviews with friends or family members to improve your communication skills and boost your confidence.
Stay Motivated and Stay Positive: The preparation process can be challenging, but it's important to stay motivated and maintain a positive attitude. Surround yourself with supportive individuals who encourage and inspire you. Take regular breaks, engage in hobbies, and pursue activities that help you relax and rejuvenate.
Remember, the selection process for Pak Navy jobs is highly competitive, so it's essential to give your best effort and prepare thoroughly. Good luck!
If you like this article, please comment and share this job on Facebook, Whatsapp, or any social media platform.
If you have any queries regarding this particular job or any other job feel free to ask us at Contact@jobbuzz.pk. We would love to answer all of your queries. Thanks for reading our article.
Recommended Readings: