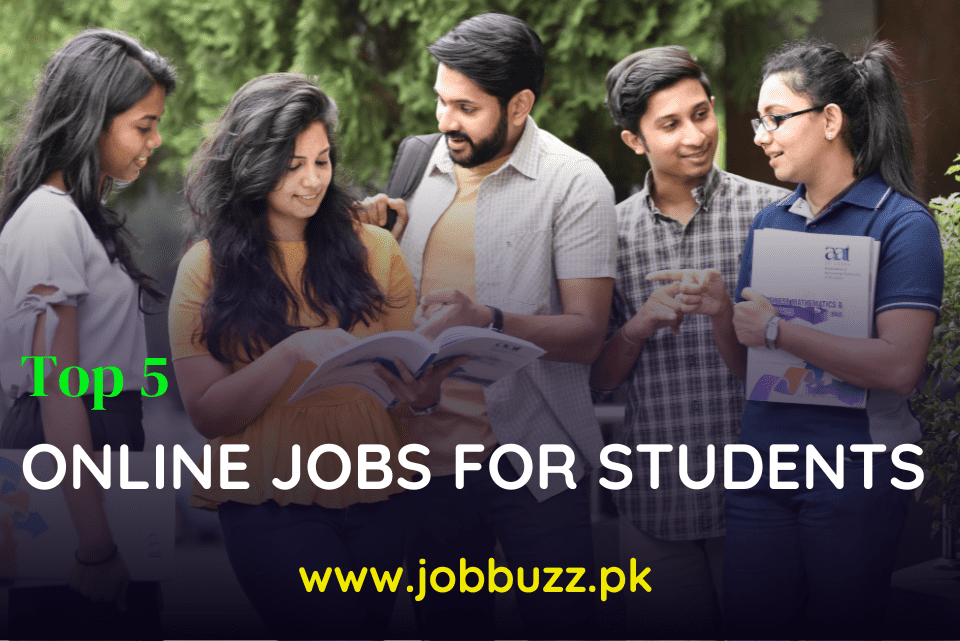 Your summer break doesn't have to be all about sleeping in and having fun, you can use it to make money from home as well!
Online jobs and freelance opportunities are one of the best ways to make money online, especially if you're currently studying or even if you're still in high school!
Here are the top 5 online jobs for students to earn money at home, even if you have not yet completed your degree and have zero experience of working online.
Taking Online Surveys
Online surveys are a great way for students to earn money online from home. There are many different sites that offer online survey opportunities.
There's no need to worry about being a certain age or having any particular qualifications. All you need is an email address and Internet access. It's not as easy as it sounds, though.
In order to make the most money possible, it's important that your responses be honest and accurate so you're not wasting your time taking surveys that won't pay off in the end.
Top Surveys Sites To Earn Money Online
One great way of earning money from taking online surveys is with Ipsos-iSay. This site allows you to take surveys, answer polls, and more with points that you can redeem in their rewards store.
With an extensive list of both domestic and international survey opportunities, Ipsos offers one of the highest-paying rewards programs around.
Voices4U is specifically designed for students who are looking for part-time work online. It's also a good choice for students.
You're paid in points at Voices4U just as you are at Ipsos-iSay, but your time is limited to a maximum number of 20 hours per week.
So it doesn't take away from school time or make it impossible to do your homework while you earn money online.
Some other top survey sites to earn money online include; Swagbucks, Opinion Outpost, OneOpinion, and Survey Junkie.
Social Media Manager
This job is perfect for a student who has a large social media following and wants to earn money from home.
Social media managers make money by managing an account on social media sites, such as Facebook, Twitter, Instagram, and YouTube.
They might schedule posts or respond to the comments and questions that followers send in.
Additionally, some online jobs require previous experience or a degree in the field to qualify; however, most of these positions do not require anything but a time commitment to apply!
Platforms To Find Social Media Manager Jobs

There are a few different platforms that can help you find social media manager jobs, with Upwork being one of the most popular.
This platform has thousands of clients looking for social media managers to create content, manage their social pages, and more.
You can also find plenty of opportunities on Fiverr, Peopleperhour, and Freelancer.
Freelance Writer
Online earning as a freelance writer is a great way to do something productive and make money while being a student. To get started, you'll want to register with online freelancing sites like Upwork and Fiverr.
You can then start bidding on projects in your niche of choice and if you're chosen, you'll be paid accordingly.
It's a good idea to diversify the types of work so that it doesn't become too repetitive – e-books, blog posts, articles, etc., are all areas where you can land gigs as a freelance writer online!
Writing an e-book is a great way to make money as a student. All you need is access to some basic software, such as Microsoft Word or Open Office, and time!
You could also publish your book yourself through Amazon Kindle Direct Publishing if you have time and want full control over how much of a cut you'll receive from each sale.
Tips To Find Freelance Writer Jobs
If you want to find freelance writer jobs with no previous experience, there are a few things you should know.
First, it's important to understand what kind of writing jobs are available and what is expected of each.
For example, an editor will be asked to read content and make edits while a copywriter may need to come up with ideas for content or create headlines.
Once you know the type of job that interests you most, it'll be easier to find opportunities that match your skills.
As you search, keep in mind that your goal is not just getting a writing job but actually starting your career as a freelance writer.
To make money at home with a writing job, you'll need to land more than one client who will pay you on a regular basis.
That means finding opportunities that allow you to build connections and create an impressive portfolio of work.
Whether it's joining forums or networking on social media sites, be sure to talk about your previous experience and show examples of your best work.
While some clients will hire based on past experience or qualifications, others may prefer having a sample before deciding whether or not they want to work with you.
In such cases, it can help if you have samples ready before launching any job search campaigns.
Data Entry
If you're more into computers than writing, online data entry can be a great way to earn money as a student.
Although you may be required to take a test or complete training before getting started, data entry work can often be done on your own time and even from your phone if you have a fast internet connection.
To get started, it's best to focus on sites that already have established contracts with clients.
if you choose these as your landing spot instead of trying your hand at cold-calling companies first, it'll help establish trust between yourself and those paying out projects in these niches!
Tips To Find Data Entry Jobs
Some good platforms that offer data entry jobs are Amazon's Mechanical Turk, CrowdSource, and Mturk. As a student, you can sign up for these jobs to earn money at home.
To find data entry jobs as a student, do a Google search for Data Entry Jobs For Students. Here is a list of tips to find data entry jobs as students -Search online using Data Entry Jobs For Students.
-You can use Reddit or Stack Overflow to find part-time jobs as well.
-Start looking for online jobs early so that it doesn't interfere with your school work or social life. -Make sure to follow the instructions given by the employers very carefully.
-If you need extra help try contacting customer service via chat or email if you're unable to figure out how to complete the tasks assigned by employers.
-Use sites like LinkedIn for potential leads on companies who might be hiring for data entry jobs in your area.
Online Tutor
Online jobs from home as online tutor is another great opportunity for students who want to earn money while studying.
Tutoring is a job that requires very little overhead but earns you money as long as you're online.
The more in-demand subjects you know, such as chemistry, finance, and computer science, may get you more customers looking for help with their studies.
You can work directly through your school or college's platform like Chegg Tutors or find clients on independent sites like Wyzant and Preply.
Tips To Find Online Tutor Jobs
Tutors are in demand and may get paid more if they have a specialty or degree. If you're interested in this type of job, here are three ways to find online tutors jobs:
– Online Tutor Boards: Check these boards to see what's available and what people are willing to pay.
– Craigslist: Post an ad on Craigslist with your qualifications and experience. You can also post an ad looking for a tutor position as well.
– Social Media: You'll find many jobs posted on Facebook groups or LinkedIn groups specifically geared towards tutors. These two sites can be a good place to start when it comes to finding online tutor positions.
FAQs
What are the top Survey websites to make money online?
Ipsos-iSay, Voices4U, Swagbucks, Opinion Outpost, OneOpinion, and Survey
Junkie are the top Survey websites in the world to make money online.
Top platforms to do data entry jobs?
Amazon's Mechanical Turk, CrowdSource, and Mturk are the Top platforms to do
data entry jobs if you didn't get work on Freelancer and Fiverr.
Top websites to get a Social Media Managers Jobs?
Fiverr, Peopleperhour, and Freelancer are the Top websites to get Social Media
Managers Jobs.
If you like this article, please share this article with others on Facebook, WhatsApp, or any other platform.
If you have any questions contact us at Contact@personalloan.pk or leave us a comment, we would love to answer all of your queries. Thanks for reading.